Writing Excuses 9.27: Pre-writing
What's pre-writing? Well, it's a little bit like "pre-cooking," in which something is cooked prior to being put in the final recipe, but in food terms it might also be like "cleaning the kitchen" or "grocery shopping." Outlining is one kind of pre-writing, but so is the creation of that 5,000-word prologue you decide not to keep, but which informed the whole rest of your story.
We talk about the different things that each of us do prior to actually laying down lines of prose, and how our processes differ between projects, genres, and mediums.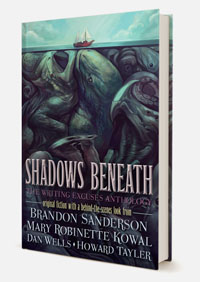 Special Announcement: The first ever Writing Excuses anthology, SHADOWS BENEATH, is available now. This anthology features stories brainstormed and critiqued here on the podcast, and includes draft versions, related episode transcripts, and authorial commentaries as well. Let Brandon tell you more about it!
Our critiquing episodes will begin airing next week, so if you want to read ahead, now's the time to pick up SHADOWS BENEATH. Oh, and if you order the hardcover, you get the ebook free of charge!
SHADOWS BENEATH launches this weekend at Westercon 67, where Brandon, Mary, Dan, and Howard are Guests of Honor alongside Cory Doctorow, Christopher Garcia, William Stout, and Bradley Voytek.
Loving That Cover Art? Us too! It's the work of Julie Dillon, who is on the 2014 Hugo ballot for Best Artist. You can admire (and comment upon!) the unobstructed original here in her DeviantArt gallery.
Dave Farland's Writing Workshops sponsored us for this episode! Both Brandon and Dan have studied under Dave, and we're all happy to wholeheartedly recommend his workshops to you. If you can't fly to his place, well, visit MyStoryDoctor.com and take the online course. The coupon code for your Writing Excuses discount is EXCUSES, but don't think that means you actually HAVE any of those…
Homework: Sapient smells. Odors that think. Scents with their own hopes, dreams, and passions. Go.
Powered by RedCircle